Home
New Members
Calendar
Scout Pages
Advancement
Special Awards
Backpacking
Weekend
Advanced
Longterm
---
Last Updated:
December 20, 2006
---
Brag Rag
In the course of hiking with Troop 849, a Scout (or adult) will receive a number of hiking patches. The number will depend on the scheduling each year and the number of hikes one attends.
These patches are to be displayed on the pack and may not be worn anywhere else. Receiving a Longterm patch is contingent on the patches being worn on the hike, a Greater Los Angeles Area Council requirement.
Patches can be sewn to the outer flap of the pack. However, a better and easier method is to sew the patches onto a patch rag and attach it to the pack in four places with Velcro® strips. The rag can easily be removed for non-Scout use, if desired, or when the pack is sold or replaced. It also makes a nice keepsake when your Scouting career is over.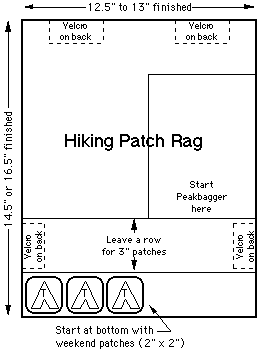 The method shown above will make a nice looking rag but is not mandatory.
The material should be nylon, which can be purchased from local sporting goods stores such as REI or Sport Chalet. The finished dimensions should be 12.5" to 13" wide by 14.5" or 16.5" high. The reason for the odd dimensions is that the patches are not always an exact multiple of 2".
Typical patch sizes:

Weekend patches are 2"x2"
Longterm patches are 3"x4", 2"x6", or 4"x4"
Peakbagger patches are 2"x3", or 2"x6" (leave 8"x6" for all patches)
Conservation patches are 3.5"x3", or 3"x3"
The 7 League patch is 2"x3" with 1.75"x1" mileage patches
---

Contents of this page provided by Tom Thorpe and Dick Rose.
©2017 Boy Scout Troop 849, Manhattan Beach, CA. http://troop849.org/